QUESTIONS & ANSWERS
Are parking spaces available at the hall? How to pay for them

Parking spaces are available directly above the hall (Bärenplatz). These are partly chargeable but can also be paid by credit card or with the app ParkingPay.
Further parking spaces are available at the harbor (fee required - approx. CHF 8.00 per day)
Sonnenwiesenstrasse at Ifolor (fee required) Line Dance Hall (free of charge)

We recommend to leave the car at the hotel and walk or take the shuttle to the hall.
We have a shuttle every day from 8.00 to 24.00: WhatsApp to the number +41 76 539 86 89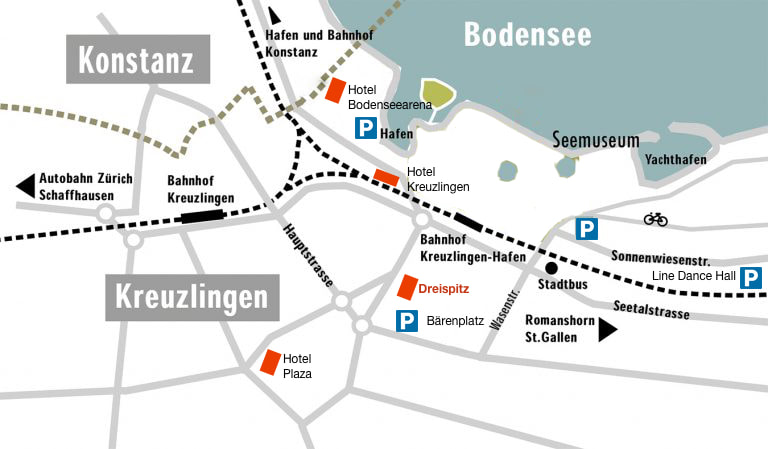 We have received a confirmation of our order, but we don't know if this is also our tickets to the event.
In Switzerland and for Germany, we will send the admission wristbands by post in April. Otherwise, the confirmation will serve as a receipt. However, we also have a list with all the registrations.

Food and drink can be bought at the event. How will payment be made? (Euro, Swiss Francs, credit card, food/drink card to be bought in advance, etc.?)
We also accept Euros, but will give Swiss Francs as change if necessary (exchange rate 1:1). TWINT, credit card payment, Maestro, Apple Pay, Samsung Pay, etc. will all be possible. We have several points of sale with drinks and snacks. You also buy the vouchers for the food counter there.

Are parking spaces available at the hall? How to pay for them
There are parking spaces directly above the hall (Bärenplatz). These are partly chargeable but can also be paid for by credit card or with the ParkingPay app.

GOLD Membership
Unfortunately, the official registration at GOLD does not work yet. That's why you can't pay yet. However, everyone can still participate and pay the fee later.

I have registered for the competition and have also received confirmation by e-mail. How does the payment work here?
All participants for the championship have to buy a Competitor Pass. You can pay for this in the online shop by credit card or PayPay. Shop>>

How does the ticket purchase for spectators work? Can they buy tickets at the box office or do they have to order them in advance?
Spectator tickets are not available in advance. They can only be purchased at the box office. Admission per day costs Fr. 10.00 per person (children up to 14 years are free).